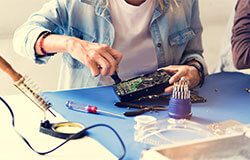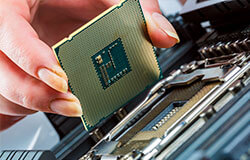 Devoted to computer repair and providing IT consulting services, Digital Tech Fix works with individuals and small businesses throughout the Chicago western suburbs. Client satisfaction is our main goal. We take the time to listen to our clients, diagnose situations, clearly explain things, and provide status updates. Keeping our clients computers up and working is important to us as we know how frustrating it is when something is not working correctly, or not at all. We work closely with each of our clients to meet their unique computer and internet technology needs.
We have the experience to repair computers, laptops, networking equipment, and more. The owner, Matt Gilliam, has been repairing computers and providing IT consulting services for about 20 years. He also works with other experienced computer technicians to solve complicated computer issues, keep up-to-date with technology, and share ideas.
At Digital Tech Fix, we use software, equipment, and parts from trusted name brands. We want our clients to have reliable and quality computer technology. This ensures our clients computer systems remain online and working as much as possible. We strive to reduce downtime. And if a client computer is down, we work diligently to get it back up and running. We also stress to our clients about the importance of computer backups. This is the one thing that helps to reduce downtime the most. Whether a file got accidentally deleted, or a cryptolocker virus encrypted every file, computer backups have saved countless individuals and businesses from these types, and other types, of data loss.
We offer free computer repair quotes when you call, text, or email us. Contact us today to get your computer repaired or consult with one of our techs about your computer and internet technology needs.